Hydro-Logic - Small Boy De-Clorinator/Sediment Filter (728875)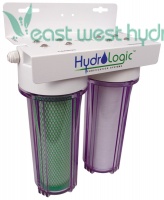 Model: 728875
Removes up to 99% of chlorine and 90% of sediment, rust, silt, etc. @ 1 GPM. Easily produces 60 gallons per hour of clear water filtered down to 5 microns. Filter capacity of 3,000 gallons.
Includes:
2-Stage 10" Filter Unit
Wall Mountable Metal Bracket
Garden Hose Connector
4 ft. Feed Line
6 ft. Outlet Line
1 /4" Shut-off
Filter Wrench
Instructions
Size: 11 " x 14" Weight: 6.4 Ibs
Limited 1 year warranty
Options:
*KDF85 Filter
Float valve
Under sink connectors
extra tubing & more
Note: *KDF85 Filter(728975) is suggested for well water users with iron and sulfur and city water users with chloramines.
Weight: 7.7 lb.
Dimensions: 12.25in. × 5.75in. × 14.25in.
People Who Bought This Also Bought:
| | | | |
| --- | --- | --- | --- |
| | | | |
| | | | |
| | | | |