Crucial Elements - Thunder Commercial 2200 GPD RO (special order)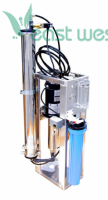 Model: CE-RO2200
Custom Built to Order complete Skid Mounted commercial Reverse Osmosis Systems. Starting at 1100 GPD up to 30,000 GPD trailer mounted RO systems. Crucial Elements have built it all. Call for exact quote.
Systems will include:
• Frame Mounted Booster pump (with Low pressure Switch)
• Flow meters for seamless opperation (permeate and concentrate)
• Panel Mounted Inline TDS Meter
• Aluminum Frame
• 20 x 2 Sediment Pre-Filter
Weight: 36 lb.
Dimensions: 11in. × 17in. × 20in.