GrowoniX Lil' Boss 3 GPM Scrubber(741730)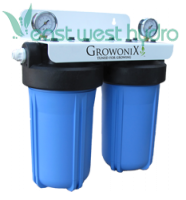 Model: 741730
At 3 GPM, The Lil' BOSS can handle just about any size garden. It's Eco Green carbon filters can handle up to 16,000 gallons of treatment before it's time for a filter change. Flowing 180 GPH, the Lil' BOSS high flow filters offer almost zero pressure drop.
Equipped with dual stainless steel liquid filled pressure gauges and brass hose fittings, the Lil' BOSS is the benchmark for de-chlorinated water.
Weight: 18 lb.
Dimensions: 12in. × 6in. × 14in.