GrowoniX GX200HF RO - Reverse Osmosis System (741705)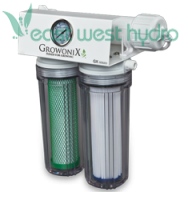 Model: 741705
The GrowoniX® GX200 HF is engineered to provide a 50% increase in water production over traditional ROs, and provides a lowered waste ratio to 2:1. Features a manual flush valve that allows you to clean the membrane. Includes a 2" stainless steel liquid-filled pressure gauge and integrated it into our patented GX Series bracketing system.
The GX200HF comes equipped with a high flow pleated sediment filter and an Eco Green coconut carbon filter offering superb filtration. We also offer a KDF/CAT for water supplies containing chlorine, lead, mercury, iron, and hydrogen sulfide.
Weight: 14 lb.
Dimensions: 14in. × 7in. × 15in.
People Who Bought This Also Bought:
| | | | |
| --- | --- | --- | --- |
| | | | |
| | | | |
| | | | |