GrowoniX GX1000HF RO 1000 GPD Reverse Osmosis System (741720)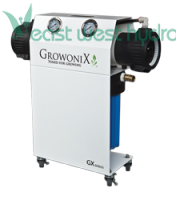 Model: 741720
Designed to flow 42 GPH (Gallons Per Hour) of pure RO water with an astounding 1:1 ratio—High flow rates and water savings never before seen in a package so affordable and durable. Utilizing the best membrane technology in the world, mounted on locking casters, and wrapped in our GX Series patented bracketing system, our premier flagship is a mobile powerhouse. A pair of liquid-filled stainless steel pressure gauges informs when it's time to change the pre-filters. A manual flush valve allows you to clean the membrane, purging out pollutants that could otherwise add build-up to the system.
Growonix GX Systems Feature:
High Flow Cold Water membrane elements 1:1 or 2:1 system ratios - The most efficient in the industry!
Electrogalvanized powder coated steel brackets
Membrane flush kit
2.5" stainless steel liquid filled gauges
One Eco Green Coconut Carbon filter rated for 16,000 gallons for chlorine/chloramine reduction
High Flow pleated sediment filter, completely wash- able and reusable
Auto Shutoff Valve: for positive automatic shutoff when using a float valve
No additional pre-filters needed!
Weight: 58 lb.
Dimensions: 14in. × 7in. × 15in.