GrowoniX EX100 RO 100 GPD Reverse Osmosis System (741700)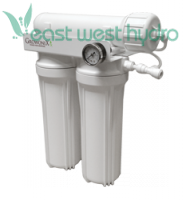 Model: 741700
The EX100 is designed to flow 4.6 GPH (Gallons Per Hour) of almost 0 ppm purified water. This unit has a 2:1 waste ratio. It's affordable, durable and packed with features you would expect on a higher priced
unit. Out-flowing all other RO's in the 100 GPD class. The EX100 also comes plumbed with a 1.5" steel pressure gauge for accurate input monitoring.
Weight: 12 lb.
Dimensions: 13in. × 6in. × 15in.
People Who Bought This Also Bought:
| | | | |
| --- | --- | --- | --- |
| | | | |
| | | | |
| | | | |