Botanicare - Botanicare Supplement 8 oz Kit (12/Cs) (720710)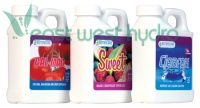 Model: 720710
Botanicare is offering new trial size GroPaks in three new combinations. Each GroPak contains three 8 oz. trial size Botanicare products specifically designed to help your plants reach their full potential. The trial size GroPacks are the perfect way to experience the benefits of Botanicare's premium fertilizers and plant supplements.
Kit includes one 8 oz. bottle of:

Cal-Mag Plus
Sweet
Clearex
Weight: 2 lb.
Dimensions: 9.75in. × 4.5in. × 2in.
People Who Bought This Also Bought:
| | | | |
| --- | --- | --- | --- |
| | | | |
| | | | |
| | | | |