HortiCare - Hortistick 3 In 1 Multimeter (716023)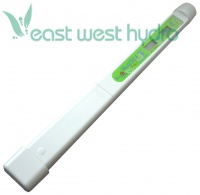 Model: 716023
The HortiStick 3-in-1 brings the best of technology into one sleek meter. It combines the measurement of the three most crucial parameters needed for a successful harvest: pH, Conductivity, and Temperature. Package content: 1x Main Unit, 1x Hand Strap, 1x Replaceable Probe, 1x Operations Manual, 4x AA Size Batteries. Simple and easy to use. Simultaneous display of pH and nutrient concentration. Replaceable sensor for prolonged meter usage. Auto endpoint sensing & display lock. Automatic temp. compensation. Rugged and water resistant. Push button
calibration with automatic shut-off. | pH Range: 0-14.0, ppm Range: 0-1990, Temp range: 0-50°C | pH Resolution: 0.1pH, ppm Resolution: 10ppm, Temp. Resolution: 0.1°C | pH Accuracy: +/-0.2, ppm Accuracy: +/- 5% F.S., Temp. Accuracy 0.5°C | 1 year warranty.
Weight: 0.85 lb.
Dimensions: 9.5in. × 2in. × 2in.
People Who Bought This Also Bought:
| | | | |
| --- | --- | --- | --- |
| | | | |
| | | | |
| | | | |