Hanna pH Indicator W Elect. (Hi981401N) (716805)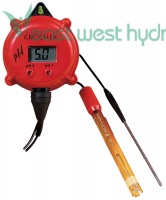 Model: 716805
HI 981401N has been designed to meet the Grower's need for equipment suited to the aggressive environments found in agricultural and hydroponics applications. The housing is water-resistant and features a molded eye which allows installation right above the sample to be monitored.
Measurements are highly accurate and can be verified with one or two point calibrations. With a 12 Volt DC power supply included with the meter, low battery failures are never an issue. The electrode is interchangeable and the connector is well-protected behind a waterproof sheathing. The meter is supplied with a stainless steel probe, preventing potential grounding problems and ensuring extended electrode life.
The gel-filled pH electrode has been specially designed to address the needs of growers. Its design guarantees greater clogging resistance in fertilizer solutions with high concentrations of phosphate, nitrate, etc.
Weight: 1.48 lb.
Dimensions: 8in. × 5.5in. × 2.25in.