Hanna pH 1413 Us/Cm Cal Sol 16oz (716860)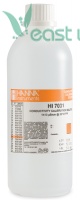 Model: 716860
TDS solution are produced with high-quality potassium chloride in various concentrations. They are standardized using a conductivity meter calibrated with NIST potassium chloride.
The 1413 μS/cm solution is the one best suited for general use. This solution is also available in combination kits with the pH 7 buffer for the easy calibration of multiparameter instruments.
Weight: 1.2 lb.
Dimensions: 2.5in. × 2.5in. × 7.75in.
People Who Bought This Also Bought:
| | | | |
| --- | --- | --- | --- |
| | | | |
| | | | |
| | | | |