Hanna Gro'Chek TDS Monitor (Hi 983301N) (716870)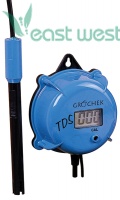 Model: 716870
These state-of-the-art meters have been engineered with a host of features suited to the aggressive environments commonly found in agricultural applications; housings and cable connections have been sealed against vapor and humidity. With a 12 volt DC power supply included with the meter, low battery failures are never an issue. Locate the meter right above the sample to be monitored or take it with you for spot checking. Select HI 983301N for TDS measurements with the common 0.7 TDS conversion factor (4-4-2) or HI 983301N/5 which uses a 0.5 conversion factor.
Both the TDS and EC meters come with a probe specifically made for horticulture and hydroponics applications. The probe compensates for temperature variations automatically, is easy to clean and is very stable, needing little maintenance.
Weight: 1.38 lb.
Dimensions: 7.5in. × 5in. × 2in.
People Who Bought This Also Bought:
| | | | |
| --- | --- | --- | --- |
| | | | |
| | | | |