Waterbury Company - Purge 3 Spray California (12/C (700267)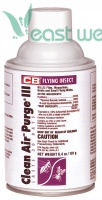 Model: 700267
Contains:  0.975% Pyrethrins, 1.950% PBO, technical, 3.050% N-Octyl bicycloheptene dicarbimoxide.
Guaranteed effective 24 hours a day for a full 30 days.
Kills and repels flies, mosquitoes, gnats and small flying moths.
The most economically effective metered pyrethrin insecticide. Use with TimeMist® dispenser.
EPA Reg. No. 9444-158.
Weight: 0.55 lb.
Dimensions: 2.75in. × 2.75in. × 5.5in.