Monterey - Take Down Garden Spray 22oz Rtu (12/Cs) (704602)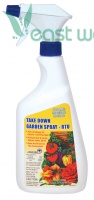 Model: 704602
A ready-to-use insecticide containing natural pyrethrin plus canola oil.
Good replacement for Dursban® or diazinon products.
Use on vegetables, fruits, houseplants, ornamentals, etc.
Controls aphids, beetles, mealy bugs, caterpillars, plant bugs, etc.
Dormant and growing season insect spray.
Insecticide from plants for plants.
Does not persist in the environment.
Kills all stages of insects, including eggs.
EPA Reg. No. for RTU 67702-6-54705. EPA Reg. No. for Concentrate 67702-5-54705.
Not registered in AL, AR, GA, LA, ND and SD at this time.


704604 is not registered in OK & WY.

EXPERIENCING IRREGULAR AVAILABILITY.

Weight: 2.95 lb.
Dimensions: 4in. × 2.25in. × 11.25in.