Chemtech - Prozap Insect Guard (85 Ea/Cs) (704545)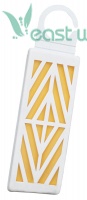 Model: 704545
<>Kills flying and crawling insect pests including mosquitoes, flies, moths and spiders. This is long lasting, round the clock protection. Simply remove from package to activate Prozap® and begin controlling action.
"The best bug control I have ever seen for all indoor pests, no spraying, no bombs. Nothing works better on spider mites! THEY JUST WORK!"  
- Rick Johnson of Louisville Hydroponics
EPA Reg. No. 5481-338-47000.

Not registered in CT, ME, MA, RI, PR AND WA D.C. at this time.
Weight: 0.2 lb.
Dimensions: 12.25in. × 5.25in. × 0.25in.
People Who Bought This Also Bought:
| | | | |
| --- | --- | --- | --- |
| | | | |
| | | | |