Bonide - Catapillar Killer Rts Quart 12/Cs (704710)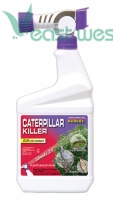 Model: 704710
Kills on contact and lasts for up to 8 weeks. Excellent control of bagworms, tent caterpillars, gypsy moths, budworms, oakworms, canderworms and many more. Our "Twist and Shoot" adjustable hose end sprayer delivers a 25 foot "tall tree" spray as well as a gentle spray for low shrubs and bushes. Contains Lamda-cyhalothrin 0.5% concentrate.

Not for sale in AK, CA, DC, HI, and WY at this time.
EPA Reg. No. 4-469.
Weight: 2.3 lb.
Dimensions: 4.75in. × 2.5in. × 12in.