Bonide - Bacillus Thuringiensis Conc 8oz 12/Cs (704735)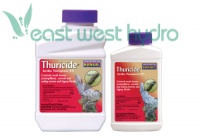 Model: 704735
BT Kurstaki 15% A liquid formulation of bacteria. Controls caterpillars, loopers, cabbage worms, horn worms, leaf folders and leaf rollers. One pint treats up to 10,875 sq. ft. Won't harm beneficial insects.

Not for Sale in CA and DC at this time.
EPA Reg. No. 4-226.
Weight: 0.7 lb.
Dimensions: 2.5in. × 0.25in. × 5.75in.
People Who Bought This Also Bought:
| | |
| --- | --- |
| | |