Botanicare - 4X8 Black Grow Tray (707047)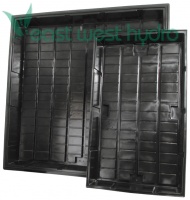 Model: 707047
Botanicare propagation trays are unrivaled in their variety of sizes to suit almost any application. The trays are ideal for use with clay grow rock, rockwool or pots filled with a soilless grow substrate. We manufacture our hydroponics trays from thick, durable, high-impact ABS plastic, which prevents the trays from bowing or sagging under the weight of large plants or full capacity water. The smooth plastic surface makes it easy to clean the trays, and large drain channels allow water to drain completely away from plants while giving extra structural support to the design.
These are the same high-quality trays as the industry standard Botanicare White Grow Trays, but are now also available in black. They feature the same thickness and design as their white trays.
Weight: 51 lb.
Dimensions: 102in. × 53in. × 6.5in.
People Who Bought This Also Bought:
| | | | |
| --- | --- | --- | --- |
| | | | |
| | | | |
| | | | |