Hydro Flow Tub Outlet Tee Fitting 3/4in (742265)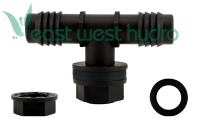 Model: 742265
First of its kind 3/4" Tub Outlet Tee fitting. Constructed of high quality impact resistant Food Grade plastic. This fitting uses tapered ends to help guide the hose onto the four barb securing points. It also incorporates "Viton" gaskets. Viton is a material that stands up to the most abrasive chemicals and provides an exceptional seal. The fitting is secured by a custom designed nut, that mounts from the inside of the
container, making for a clean finished look. Tired of leaking grommets? Hydro Flow 3/4" Tub Outlet Tee Fitting is your solution.
Sold in case quantities only (25/case)
Weight: 0.1 lb.
Dimensions: 4in. × 3in. × 1in.