Hydro Flow Barbed Y 1/2in (742080)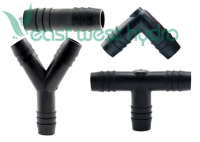 Model: 742080
Our complete line of fittings is known for its superior performance and
reliability. These non-corrosive plastic fittings are guaranteed to
provided a secure, watertight and airtight connection. These fittings
offer strength and durability. Use these high quality barbed 1/2"
connectors for your irrigation or hydroponic systems.
Sold in Case Quantities Only
Weight: 0.03 lb.
Dimensions: 2.5in. × 1.25in. × 0.75in.