Ecoplus 3170 GPH Submersible Pump (728335)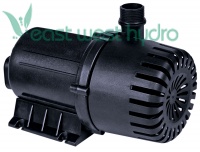 Model: 728335
This submersible water pump is great for everything from fountains to hydroponic systems. Powerful oil free high magnetic rotor. Ceramic shaft and bearing insures reliability. Trouble free one moving part. Strainer protects impeller from damage.
180 watts.
Max height is 14.8 feet.
Comes with 392 inch 120 volt cord.
Inlet is 1.5" NPT and the outlet is 1.5" NPT.
Included fittings: 1.5" Barbed x 1.5" Threaded and 2" Barbed x 1.5" Threaded.
One year manufacturer warranty.
Weight: 13.1 lb.
Dimensions: 12.25in. × 7.5in. × 7.5in.
People Who Bought This Also Bought:
| | | | |
| --- | --- | --- | --- |
| | | | |
| | | | |