Vermicrop Organics - Coconot Coir Alternative (720395)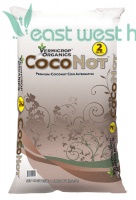 Model: 720395
CocoNot™ is a natural and organic substitute for Coconut coir, peat moss and other soilless mediums and conditioners. CocoNot™ offers a perfect ratio of grinds and pith thus providing the plant with an exact medium structure for optimal root growth and moisture capacity. This special mixture is now available in a 2 cu. ft. bag and also in a ready to use pre-filled CocoTek Basket. If added moisture retention is desired add VermiBlend.
Contact a dealer to determine exact pricing for your area.

Weight: 24.5 lb.
Dimensions: 33in. × 17.5in. × 6.5in.