General Hydroponics - Just Right Xtra Potting Mix 1.5CF 60/Pl (715240)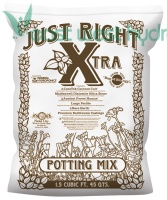 Model: 715240
Just Right Xtra is teaming with beneficial microbes, bacteria and fungi. General Hydroponics has included Cocotek coconut coir, Ancient Biology Alaskan Forest Humus, Subculture M mycorhizae innoculant, Subculture B probiotic inoculum and Rare Earth prophylactic clay. This mix also contains the finest worm castings, natural organic potash and organic bone char. Just Right Xtra has a perfect pH of 7.01 to keep the bacteria and fungi perfectly happy and healthy!
Contact a dealer for exact pricing in your area.
Weight: 32 lb.
Dimensions: 27in. × 19in. × 4in.