Organicare - Pure Earth Aeration 6" Grow Bag 9/Cs (714336)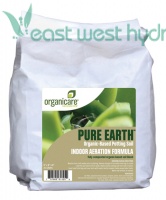 Model: 714336
Pure Earth Aeration Formula™ now comes in an easy to use white grow bag. Pure Earth™ is blended using superior, and all natural ingredients, insuring that your plants receive the natural benefits that only organics can provide. Pure Earth™ is a premium, organic-based potting soil. Two great sizes to choose from, 6" which is 3.5 liters and 8" which is 5.5 liters. No need to buy a separate pot. The bags even have pre-punched drainage holes.
Sold in case quantities only.

Weight: 5 lb.
Dimensions: 7in. × 5.5in. × 5in.