Premier Horticulture - Premier Pro-Mix Bx W/Biofungicide (713410)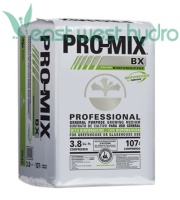 Model: 713410
Pro-Mix 'BX' with Biofungicide is a "General Purpose" peat-based professional growing medium, designed for the cultivation of horticultural plants. This formulation is lightweight, uniform and provides necessary conditions to establish plant growth. Enriched with Subtilex®, a high-performance biofungicide that prevents root diseases caused by pathogens, such as Pythium, Fusarium and Rhizoctonia.

Canadian Sphagnum Peat Moss (80-85%/vol.)
Bacilius subtilis-MB1600 (biofungicide)
Perlite
Vermiculite
Dolomitic & Calcitic Limestone (pH adjuster)
Macronutrients & Micronutrients
Wetting Agent
Contact a dealer for exact pricing in your area.
Weight: 65 lb.
Dimensions: 28in. × 18in. × 15in.