Premier Horticulture - Premier Pro-Mix HP 3.8 Cu Ft Bail (713405)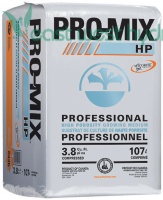 Model: 713405
Pro-Mix 'HP' is a "High Porosity" peat/perlite-based growing medium. This mix ensures optimum growth, especially when high air-capacity and extra drainage are required. It is ideal for water-sensitive crops, rooting cuttings and/or low-light growing conditions. Mycorise® Pro ensures stronger, healthier plants due to more root systems and better fertilizer uptake.
Canadian Sphagnum Peat Moss (80-85%/vol.)
Endomycorrhize (Mycorise® PRO)
Perlite - horticultural grade & Vermiculite
Dolomitic & Calcitic Limestone (pH adjuster)
Macronutrients & Micronutrients
Wetting Agent
Contact a dealer for exact pricing in your area.
Weight: 62 lb.
Dimensions: 27in. × 18in. × 15in.
People Who Bought This Also Bought:
| | | | |
| --- | --- | --- | --- |
| | | | |
| | | | |
| | | | |