Premier Horticulture - Premier Pro-Mix BX 3.8 Cu Ft Bail (713400)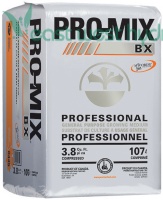 Model: 713400
Pro-Mix 'BX'/Mycorise® Pro is a "general purpose" peat-based growing medium with vermiculite and perlite, used for the cultivation of a wide variety of plants. This mix is lightweight, uniform and blended to the highest degree of consistency to ensure maximum plant performance.
Canadian Sphagnum Peat Moss (80-85%/vol.)
Endomycorrhize (Mycorise® PRO)
Perlite - horticultural grade & Vermiculite
Dolomitic & Calcitic Limestone (pH adjuster)
Macronutrients & Micronutrients
Wetting Agent
Weight: 62 lb.
Dimensions: 27in. × 18in. × 15in.