Botanicare - Boss 8IN Cocogro Cube 12/Case (720467)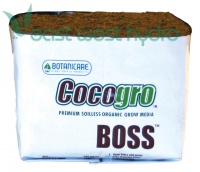 Model: 720467
Boss™ is eco-friendly and biodegradable. It is unique in its composition and is manufactured with extra washes to remove excess sodium. The fiber is aged 18 to 24 months and is fully decomposed to ensure no P.H. or E.C. drifts. Boss™ is exceptional because of its multi-drain capability. It contains a coarse coir fiber mat on the bottom of the block to allow for free drainage and to keep coir fiber particles from draining out of the bag. Boss™ is wrapped in a horticultural grade poly bag that is white on the outside and black on the inside to insure a low temperature and no light to promote healthy root systems.
Sold in case quantities only.
Weight: 1.1 lb.
Dimensions: 7.5in. × 7.5in. × 2in.
People Who Bought This Also Bought:
| | | | |
| --- | --- | --- | --- |
| | | | |
| | | | |