Adjust-A-Wing Large Reflector w/ Cord Six Pack (904565)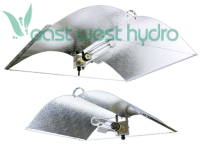 Model: 904565
The Adjustable Light Spread allows growers to create ideal lighting conditions across all stages of plant growth for increased vitality, health & yield. Made of 95% reflective German stucco aluminum. Twice the power and efficiency of most other reflectors. Increase the growing area under each lamp by up to 75%. Increase yield per lamp up to 50%. Sold in 17 countries across 4 continents, Adjust-A-Wings are the reflectors of choice for many of the world's top growers! Medium Dimensions: 22 in x 24 in, 25 in, 26 in or 27 in. Large Dimensions: 28 in x 36 in, 37 in, 38 in, 39 in or 40 in. An additional socket assembly can be added to a Large Adjust-A-Wings. Allows operation of two 400 watt MH & HPS lamps or two 600 watt HPS lamps.
Heavy duty galvanized steel mounting bracket.
Corners are rounded – no sharp corners unlike competitive "gull-wing" type reflectors.
Pre-wired with lamp cord and socket.
Does not accept glass.
Reflector dimensions: 21¼" Long x 15" Wide x 4½" Tall
US Patent No: D545485
Shown with optional lamp.

Weight: 7.8 lb.
Dimensions: 30in. × 24in. × 1.5in.
People Who Bought This Also Bought:
| | | | |
| --- | --- | --- | --- |
| | | | |
| | | | |
| | | | |