Sun System - Harvest Pro Switchable 1000 Watt Ballast 480 Volt (902449)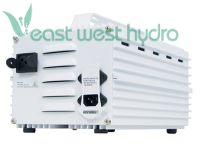 Model: 902449
Cool Wall™ uniquely offers two barrier walls which help keep the critical components cool. The capacitor and ignitor temperatures are greatly reduced by being separate from the ballast core. Lower temperatures mean better reliability & longer life. EZ Cap™ Door offers easy access to the capacitor in the event it needs to be replaced-another Sunlight Supply® innovation! The Power Pointer® easily switches from 120 to 240 volt power! Simply unplug the detachable 8 foot 120 volt power cord (included), turn the Power Pointer® arrow down for 240 volt power and plug in a 240 volt power cord. THAT'S IT! (240 volt power cord sold separately, #903082). High temperature capacitor ensures long lasting durability. Lamp cord receptacle - accepts all Sun System® lamp cords (sold separately). Exclusive retention ears keep male plug securely fastened. Aluminum ballast enclosure is engineered to dissipate heat and keep components cool. Heavy duty handle for easy carrying or wall hanging. Louvered end plates and heat slots help cool the ballast for years of trouble-free use! 5 year warranty.
Transformer Voltages:
#902442 - 120/208/240/277
#902432 - 120/240
#902435 - 120/208/240/277
#902444 - 120/208/240/277
#902441 - 120/208/240/277
#902449 - 480

Weight: 36.35 lb.
Dimensions: 15.3in. × 10.5in. × 9.1in.