Sun System - 6IN Ac Adapter (630538)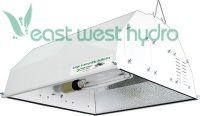 Model: 630538
Designed by Control Wizard Products and manufactured by Sunlight Supply.
Interchangeable parts to create the ideal reflector for your growing needs. Optional 4" and 6" air-cooled fittings available.
Galvanized steel body with durable powder coated finish.
95% reflective German aluminum interior for maximum output.
Advanced reflector designed for excellent performance and uniformity.
Neoprene gasket and optional glass seal the reflector for optimum atmospheric control.
Can accommodate 1-2 1000 watt lamps or 1-4 400/600 watt lamps.
Includes: 1 - Socket bracket, 3 - block plates and 2 - louvered covers.
Reflector dimensions: 24 1/2" Long x 24" Wide x 11" High.


Weight: 0.4 lb.
Dimensions: 6in. × 6in. × 4in.