Powerbox Inc - DPC-12000-D-60A-4HW Grow Light Controller (702950)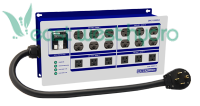 Model: 702950
The DPC-12000-D is capable of running up to twelve 1000 Watt lights at 240 Volts. This is a dual trigger cord model - there is no built-in timer. Outlets are separated into two banks - each bank has six 240 Volt outlets (6-15r) and three 120 Volt outlets (5-15r). Each bank of outlets in the DPC-12000-D has it's own trigger cord, which when power is applied, activates the bank of outlets. Plug the trigger cords into the timer(s) of your choice for simultaneous or independent activation. Hand-built at the PowerBox California factory, 5 year warranty.
GFCI main circuit breaker provides the ultimate in safety and protection
for you and your environment - 30 Amp, 50 Amp or 60 Amp main capacity.
Dual trigger cord operation - run two rooms on independent timers, or stagger startup for one room - lots of possibilities.

Weight: 11 lb.
Dimensions: 17in. × 12in. × 11in.
People Who Bought This Also Bought: