Sunlight Supply - 8 Ft. Bamboo Stakes (1 Ea = Bag Of 25) (800998)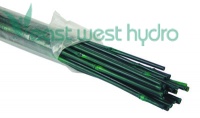 Model: 800998
Bamboo stakes are all natural, strong, lightweight, inexpensive, weather well and last several seasons in the garden. Use these stakes as plant stakes and markers, or as supports for potted plants. With a few simple tools, bamboo can also be made into fences, frames, arbors, trellises – any structure you can imagine.

Sold in bags of 25 only.
8' stakes cannot be shipped via FedEx or UPS Ground.
Weight: 8 lb.
Dimensions: 96in. × 8.25in. × 5.25in.