Sunlight Supply - Vaporizer Replacement Cup (704060)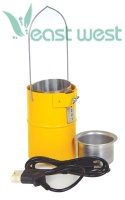 Model: 704060
Item (704060) is the replacement cup for Greenhouse Vaporizer Yellow (704050)
Heat plate is automatically regulated to ideal vaporizing temperature (140° C ).
Quality construction.
Safe (outside is not hot to the touch).
One unit is capable of treating up to 1000 Sq Ft.
Suspend with jack chain at least 3' away from any combustible surface.
Weight: 0.1 lb.
Dimensions: 4in. × 4in. × 2in.