Root Lowell - 1/2 Gallon Flo-Master Pump Sprayer (708536)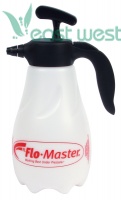 Model: 708536
This small, hand-held Flo-Master® sprayer is ideal for small jobs when a larger pressurized sprayer would not be practical.
½ gallon capacity.
Compact version of standard compressed air sprayers.
Adjustable poly nozzle which can spray a fine mist.
Durable poly construction.
Designed for light jobs.
Ideal for misting indoor plants.
Weight: 0.8 lb.
Dimensions: 12.5in. × 4.5in. × 4.5in.
People Who Bought This Also Bought:
| | | | |
| --- | --- | --- | --- |
| | | | |
| | | | |