Sunlight Supply - Giant Bucket - Black 12in x 12in x 12in 4.75 Gallon (724395)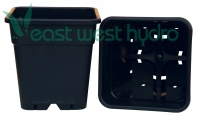 Model: 724395
This large, durable Dutch pot can be used for a variety of gardening applications. 16 drain holes for excellent drainage. Great for use with all types of growing media. Made with heavy duty plastic. Thicker than standard pots.
Dimensions:12" x 12" (top) x 8.5" x 8.5" (bottom) x 12" high Capacity: 4.75 gallons.
Weight: 1 lb.
Dimensions: 12in. × 12in. × 12in.