Fiskars - Shortcut Snip 6/Cs (800025)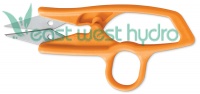 Model: 800025
We call it the "Shortcut Snip", but you'll use it as a household snip for all the thousands of little tasks where swift, sure cutting comes in handy. The light-fingered control and razor-sharp blades are ideal for houseplant maintenance and bonsai, not to mention opening a new CD case or snipping a ribbon.
Fingertip control for small, detailed cuttings.
Ideal for intricate houseplant cuttings.
Right or left-handed use.
Fully hardened stainless steel blades holds sharp edge longer.
FiberComp™ construction-reinforced fiberglass composite materials provide strength and durability.
Lifetime warranty.
Weight: 0.05 lb.
Dimensions: 6.75in. × 3.25in. × 0.25in.
People Who Bought This Also Bought:
| | | | |
| --- | --- | --- | --- |
| | | | |
| | | | |
| | | | |