Powerbox Inc - Powerbox DPC-8000-240-4P (702935)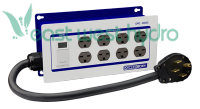 Model: 702935
With a DPC-8000 240 Volt lighting controller from Powerbox™, you can
control up to eight 1000 Watt lights from one timer. Designed with
safety in mind, the DPC-8000 is an affordable lighting controller made
in the USA from industrial-grade components. With this unit, running up
to eight lights has never been quicker or easier - you can plug directly
in to a 240 Volt range outlet to have your lights up-and-running in
minutes. It's easy to mount to a wall (keyhole tabs), or set on a flat
surface (non-skid rubber feet).
Programmable digital timer to control light cycles.
Eight NEMA type 6-15 240 Volt outlet receptacles.
4' main power cord - Plug & play NEMA 14-50P, 4-Prong Plug.
Hand-built at their California factory, 5 year warranty.

Weight: 8 lb.
Dimensions: 16in. × 12in. × 11in.