Powerbox Inc - Powerbox DPC-15000-50A-4P (Plug&Play) (702955)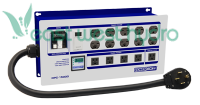 Model: 702955
This unit is capable of running up to ten 1000 Watt lights, plus 120
Volt accessories - safely and reliably. The DPC-15000 is top-quality
from the inside, out - every component is selected based on safety,
durability and reliability. GFCI main circuit breaker provides the
ultimate in safety and protection for you and your environment - 50 Amp
or 60 Amp main capacity. Ten timed 240 Volt outlets (6-15r) and five 120
Volt outlets (5-15r). Plug & play (14-50P) or hardwire.
Built-in AUBE digital timer with battery backup. Digital ammeter shows exact current draw in real-time.
Detachable trigger cord can override the built-in timer, so Powerbox™
can be controlled by other devices. Hand-built at their California
factory, 5 year warranty.

Weight: 8 lb.
Dimensions: 16in. × 12in. × 11in.