Hydro-Logic – KDF85 Filter For Tallboy & Tallblue (728980)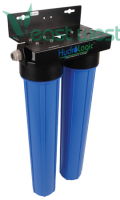 Model: 728980
Prefilter for Merlin GP. Removes up to 99% of chlorine, 90% of sediment, rust, silt, etc. and volatile organic compounds and particulates down to 5 microns to pre-treat water before the Merlin GP. Extends pre-filter life by 3 times.
Includes: 2-Stage 20" Pre-Filter Unit, wall mountable metal bracket, 4 ft. feed line to Merlin-Garden Pro™, filter wrench and instructions. Unit size is 11" x 24" and weight is 11 lbs. Limited 1 year warranty.
Weight: 2.8 lb.
Dimensions: 2.8in. × 2.8in. × 20in.
People Who Bought This Also Bought:
| | | | |
| --- | --- | --- | --- |
| | | | |
| | | | |
| | | | |