GrowoniX KDF / CAT Pre-Filter 2.5in x 20in (741780)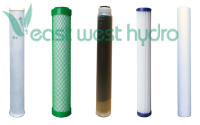 Model: 741780
The GrowoniX® Slim-SCRUB is designed to work with the Economy
Pre-Filter, Green Coco Carbon Filter, KDF/CAT Pre-Filter, High Flow
Pleated Sediment Filter, and Spun Sediment Filter. All filters are 2.5" x
20". The KDF/CAT Filter is for water supplies containing chlorine,
lead, mercury, iron, and hydrogen sulfide.
Weight: 1.55 lb.
Dimensions: 20in. × 2.5in. × 2in.