Hyper Fan - 10" 1065 CFM Fan With Digital Controller (701410)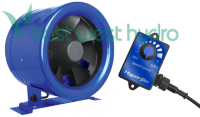 Model: 701410




Laminar Flow Fan Blade & Stator Technology creates optimal airflow similar in technology to an airplane propeller. The result is very high CFMs and exceptional static pressure performance. Hyperfans deliver the highest CFM's per watt of any fan in the industry. State-of-the-art digitally controlled DC powered Electronically Commutated Motor (ECM) is extremely quiet, long lasting and very reliable. Best of all, this unique technology uses about half the power as traditional fans. The included speed controller can adjust fan speed from 30% to 100%. It is detachable from the fan and independent from the power cord. Lightweight aluminum housing is one-third the weight of comparable steel bodied fans. They are compact and easy to install. Universal mounting positions – can be mounted in any position allowing maximum flexibility during installation. Heavy-duty 6/8/10 mm bearings, versus commonly used 4 mm bearings, ensure smoother operation and increased longevity of the fan. 5 year warranty.
Hyper Fan CFM Ratings:
6" Hyper Fan - 315 CFM (701400)
8" Hyper Fan - 710 CFM (701405)
10" Hyper Fan - 1065 CFM (701410)

Weight: 13 lb.
Dimensions: 10.8in. × 10.8in. × 11.5in.
People Who Bought This Also Bought:
| | | | |
| --- | --- | --- | --- |
| | | | |
| | | | |
| | | | |