Titan Controls - Titan Nyx 1 Day/Night Photo Controller (702625)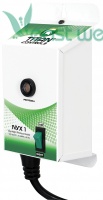 Model: 702625
Activate your lamp cooling fan, light mover or night exhaust fan with this straightforward, easy to use controller.
Goes from 'DAY' to 'NIGHT' mode with a flip of the switch.
Built using durable powder coated steel enclosure with the highest quality components available.
15 amps/120 Volts/60 Hz.
3 year warranty.
For more information go to www.titancontrols.net
Weight: 2.75 lb.
Dimensions: 12.5in. × 9in. × 4.25in.