Gavita - Pro Lamp Double Ended 1000 Watt (902955)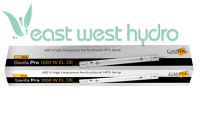 Model: 902955
Gavita horticultural High Pressure Sodium (HPS) lamp with high output and extreme long light maintenance. Change once a year for best results. Initial PPF: 1950 micro-Mol s-1. Light maintenance 5000 hrs: >96%. Color temperature is 2100 K and the lamp base is K12 x 30s. Suitable for High Frequency Gavita Pro 1000 Watt ballasts (Pro-line). 1 year warranty on Gavita Pro line 1000 Watt ballasts. The jacket of this double ended lamp is made from quartz glass.

Do not handle with bare hands. Oil from your hands can damage the lamp.
Weight: 0.205 lb.
Dimensions: 17in. × 2.5in. × 2.36in.
People Who Bought This Also Bought:
| | | | |
| --- | --- | --- | --- |
| | | | |
| | | | |
| | | | |