Phresh Filter 6" x 16" 400 CFM (701005)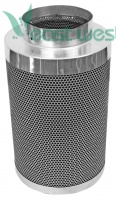 Model: 701005
Phresh filters are state of the art carbon filters the scour the air to make it clean of dust, foreign particulates, organic compounds and odors. Competitively priced, Phresh carbon filters are half the weight, last twice as long and have the largest selection of sized to choose from. Phresh filters rely on the unique properties of RC-48 Australian activated carbon. They are used in research labs, plant breeding, tissue culture, indoor gardening, backyard and commercial greenhouses for their total airstream filtration characteristics. Phresh carbon filters are professional-grade system designed to meet the demands of serious hobbyists and commercial applications.
Aluminum tops and bases for reduced weight. Half the weight of other filters.
46mm (1.8") RC-48 activated, certified virgin carbon bed.
Machine packed carbon means more carbon and less movement.
Cone shaped internal base for optimum air flow.
Sealed, bagged, boxed and labeled directly after being manufactured for optimum life span, handling and presentation.
51% open air custom mesh.
Unique "Anti Air Bypass" System.
Large selection of sizes available to fit any application.
Flange & pre-filter included.
4" x 8" to 8" x 24" sizes only can be sent via UPS.
Weight: 12.65 lb.
Dimensions: 10in. × 10in. × 18in.
People Who Bought This Also Bought:
| | | | |
| --- | --- | --- | --- |
| | | | |
| | | | |
| | | | |